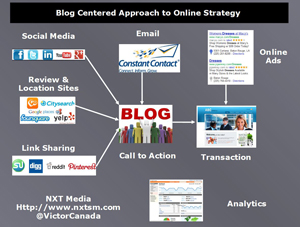 Social Media is still new for many organizations. Early adopters and innovators have proven that social media is effective for community building, brand awareness, customer service, project management, employee engagement, recruiting and marketing. Some of the newer applications for social media that are being studied include business intelligence, voice of the customer and operational workflow optimization.
The updated design for LSU CE's Social Media Specialist Certificate program enables the attendee to learn four fundamental aspects of any effective social media function.
4 Fundamental Aspects of Effective Social Media
Strategy – action plan designed to achieve specific goals
Best Practices – proven techniques
Integration – using all your assetts seemlessly
Measurement/ROI – understanding the results of your actions
2 Non-Profits
Starting this year we've added a social good component to the course series. Each semester we work with two local non-profits to help them achieve more with their social media effort. The students in the class work together to improve the online presence for these non-profits, at no charge, as an exercise for real world experience. The students optionally may perform additional exercises in between class dates to continue their learning while outside of the classroom. LSU is not involved in selecting the non-profits for the class. I choose the non-profits based on their need and the benefit provided to the students taking the course.
This semester's non-profits are…
Course Descriptions 
The courses are designed to stand alone. Every course includes each of the four fundamentals to ensure that students have a well rounded understanding of social media strategies, tactics, and tools. However, each course focuses on one of the fundamentals more than the rest.
Social Media Strategies is a two day course focused on all aspects of developing a strategy for social media. The strategy for social media should fold nicely into your corporate, organizational or personal strategy. At the end of this course the student understands the psychology of social media and considerations for strategic choices. Case studies are discussed to demonstrate the value of appropriate strategic choices and the power of social media.
Class Dates: The Fall semester course has passed. Spring dates are February 6-7, 2013 – Registration for Spring semester opens in December.
Best Practices for the Top Social Media Channels is a fast paced, one day, 100% hands-on course which involves practical demonstration and application of best practices for each social media tool. We practice the most effective techniques for tools like Twitter, Google+, Facebook, LinkedIn, and Pinterest.
Class Dates: October 10th. Spring date February 28th, 2013 – Registration for Spring semester opens in December.
Integrating Digital Channels for Customer Loyalty is a two day course where we review case studies and learn the best techniques for using various online social sites, integrated with a web site or blog, events, and traditional marketing components. Social sites can be more effective when they compliment each other. This course also discusses distribution models for any size organization from Fortune 100 to the solopreneur.
Class Dates: October 31st and November 1st.
Measuring Social Media Results Workshop brings together all the courses within the context of goals and objectives, metrics, and return on time/money invested. Not all aspects of social media are worth measuring but understanding what data is available and how to interpret that data to get the best results for your organization is critical in today's competitive environment. This workshop includes monitoring tools for reputation management and consumer or community sentiment.
Class Dates: December 12-13
Elective: Blogging Essentials and WordPress is a one-day comprehensive hands-on workshop for blogging technology, WordPress as a blogging platform and content creation, curation and management. Blogs are an important part of online success for many organizations.
Class Date: November 29th
Other electives may found at LSU CE's overview site the Social Media Specialist Certificate Program.
Hope this helps you think about your own social media approach and understand LSU's social media certificate program. If you are looking for some non-profits to support, I hope you'll join us in supporting the Greater Baton Rouge Food Bank and the Cookie Project Honduras. If you have questions, feel free to contact me directly or post a comment.