I'm often asked, "why don't more people engage with companies on social sites?" First, it's a little awkward and weird for most people to talk to a company online. Unless we have a complaint, consumers are just not used to chatting with a company. Secondly, most companies online broadcast one-way marketing messages which give the impression that the company simply doesn't want to engage. Here's an example of a company engaging without being salesy.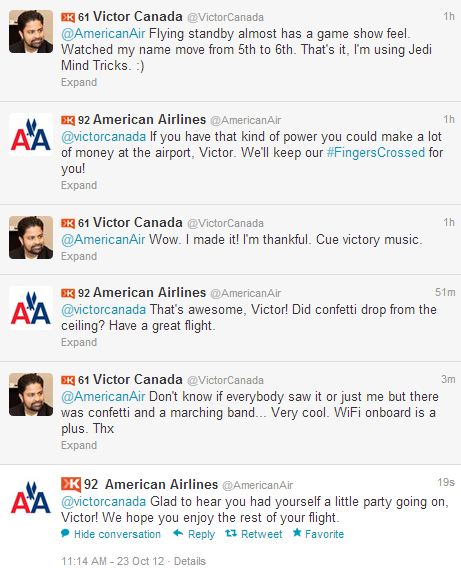 Whether you love or hate airlines, this is a great example of customer engagement. With over 440,000 followers it would have been easy for American Airlines to simply disregard my tweet. I wasn't complaining or asking for anything. By engaging me in a clever and friendly way, all their followers see that they are human and willing to talk. American Airlines probably has no trouble getting engagement since it's clear they want to talk.
Here are some suggestions for increasing engagement with customers:
1. Be friendly. Find and talk to your customers first and reply to customers talking about you.
2. Be human. Mention human things like feelings and opinions. Don't get fired because of me of course. Check your company communication guidelines. If you can mention how you feel or your opinion it makes your social account more social. If you can sign your post with your first name when appropriate. Your audience will appreciate knowing who is "behind the curtain".
3. Have fun. Try to play a little. #NoExplanationNeeded
4. Don't accept the 90, 9, and 1 rule. This rule states that 90% of your audience will lurk, 9% will occasionally show signs of life by liking, favoriting, retweeting, +1 ing, comment or otherwise interact, and only 1% will truly engage. Your engagement may look like this and that's fine. You only need a few advocates (raving fans) who talk about you and love your company to get great results from social media. However, don't accept this result. Be engaging and challenge yourself to exceed the 90, 9, 1 rule.
I believe 2013 will usher in greater engagement from consumers than anything we've seen so far. As social media matures, engagement will be more and more important. Great engagement also levels the playing field for small and medium sized companies.
Kudos to American Airlines for inspiring this post. If you come across other great examples of companies who engage without being salesy please share them here or otherwise let me know. Much appreciated.